Best free VSTs
Posted by James Cullen on
If you're producing on a budget, and let's be honest most of us are, then you're always on the lookout for new exciting free VSTs. There's always room in your library for a cool new instrument or an effect, and keeping your ear to the ground for the best recommendations is always important.
There is a lot of controversy around paying for music software, especially given that plug ins have historically been quite easy to obtain illicitly, as well as some of them having extremely steep price tags which are out of the price range for all but the most affluent producers. 
There are now even synths that operate a pay monthly service without ever actually owning anything, another controversy in itself. The point is though that a free plug in is definitely something to get excited about.
So in this article with Top Music Arts, we will take you through some of the best free VSTs available in 2019.
Cloudrum
Whether you're creating island dancehall vibes, or chilled meditation ambiance, there's a spot in your instrument library for Cloudrum, the Steel Tongue drum emulator from Ample Sound. 
Featuring a beautiful array of sound presets, as well as customisable controls to create some truly unique textures, this is a beautiful sounding instrument. It has a range of 3 octaves, you're able to edit the envelope, as well as control sliders for Body, Ambiance, Synth and Main. These effects let you edit the sound from a pure sound reflective of the instrument, or into something more ethereal and synthesised.
Definitely a must have!
Cloudrum is available here: https://www.amplesound.net/en/download.asp
ModulAir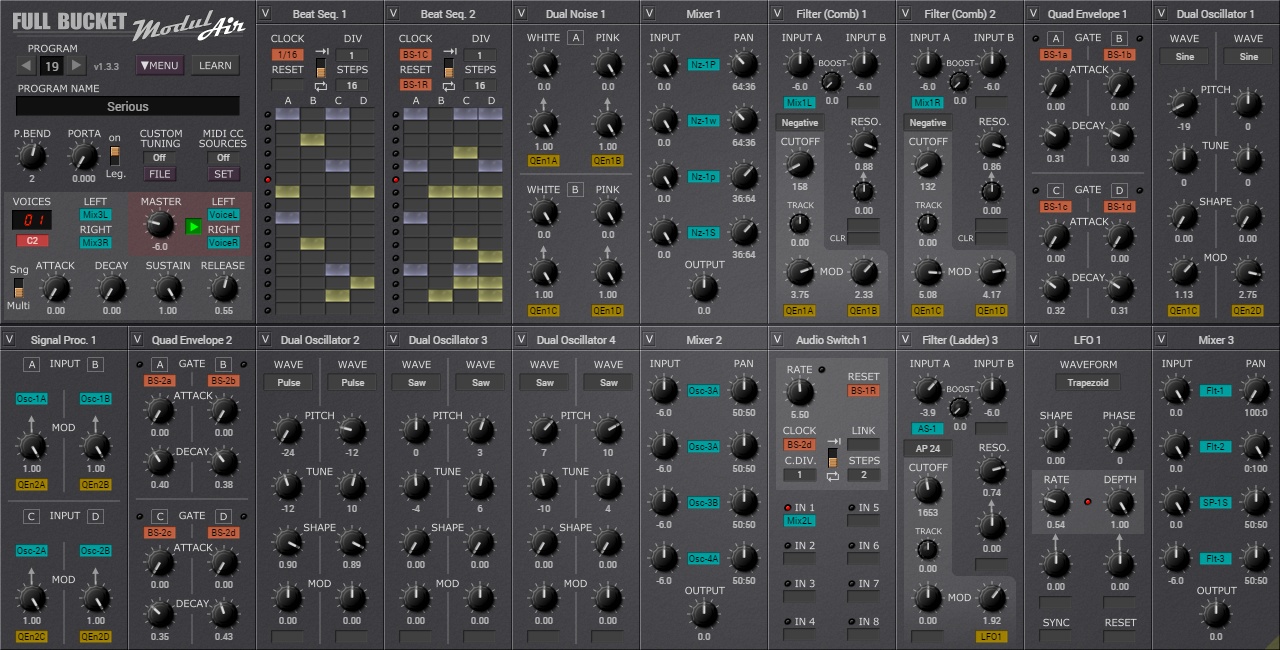 Fans of Modular set ups will love ModulAir, an extensive and still work in progress Modular software system from Full Bucket Music.
Working as a VST plug in within your DAW (a feature VCV Rack is as yet incapable of) ModulAir allows complex routing on a relatively simple interface. It features 51 module types, with the ability to host 18 modules per patch.
The best thing about ModulAir is that it's constantly being tweaked and updated. The amount of module types has been steadily increasing, and bugs are fixed and ironed out too.
Considering it's a free plug in, you can't go wrong if you're looking for a modular software synth to get your hands on!
Download ModulAir here: https://www.fullbucket.de/music/modulair.html
Piano One
No instrument library is complete without a dedicated Piano VST. I myself am a proud owner of Native Instruments' The Giant; a weird and wonderful plug in of two halves; one is a piano plug in, the other is a found sound-esque VST allowing weird sounds all sampled from hitting the piano with various implements, dragging things across strings and basically finding weird ways to make the piano output any sound other than the one it's supposed to. Anyway, I digress….
If you're looking for a free Piano VST, however, look no further than Piano One by Sound Magic.
The plug in's sound comes from the Yamaha C7 concert grand, an absolute powerhouse of a piano, and well respected in the professional piano world. It's appeared on famous concert stages, in international competitions and in prestigious music events throughout the world.
Piano One uses Sound Magic's Hybrid Modelling Engine; allowing both a realistic sound as achieved by sampling a piano, as well as the playability of Modeling. The joining of sampling and modelling gives a fuller, richer and truer sound to the piano than could be achieved using either technique alone.
Another great feature is that Piano One only takes up 150MB of space, allowing to be used by older machines as well as newer ones with ease. There is no waiting, and the CPU usage is so small it's practically unnoticeable.
It's also equipped with Sound Magic's fully featured add-on system, allowing you to choose from over 20 different add ons on the Add on store. They can add special features to the piano, so be sure to check these out!

Download Piano One here: 
https://www.kvraudio.com/product/piano-one-by-the-best-computer-music-and-acoustic-technology-inc
Dexed 
The Yamaha DX7 is one of the best selling synths of all time. You will have heard it used on many a top hit, so it's only natural that producers would want to get their hands on an emulation of its signature sound. Even more of a bonus if the emulation is free!
Look no further than Dexed by Digital Suburban.
FM Synthesis can be a tough beast to tame, so go into Dexed with the caveat that you'll need to know a little bit about Frequency Modulation. However, FM is as notorious for being difficult to get your head around as it is well known for the variety of sounds it can create. Dexed gives this full FM power to emulating the famous Yamaha DX7.
Despite its tough workflow and intimidating interface, there is a lot of power packed under the hood of Dexed, and users praise its ease of use (once you know the interface), power, and stability. So check it out!
Get your hands on Dexed here: https://www.kvraudio.com/product/dexed-by-digital-suburban
Minimogue VA
Ah, Moog. The staple of synthesisers. Their iconic look and sound have shaped genres and careers alike, and for good reason; Moog have historically made brilliant synthesisers. One such synth is the Minimoog, a classic synth of the 1970s and 80s. It was the first synthesiser sold in music stores, designed to try and make the decidedly Star Trek-esque realm of room sized synthesisers accessible to the public.
So what synth is more deserving of a software emulation?
Minimogue VA by Voltkitchen is one such emulation, and it has made our list because it's free!
MinimogueVA emulates the classic Minimoog, but it includes additional features to help shape the sound. It's a great tool to bring the classic sound of the Minimoog into your digital arsenal of synths. Like the original, you can turn the third Oscillator into an LFO, and though there isn't a dedicated Noise Generator as there is on the original, you can set either pink or white noise to be output by Oscillator Three. 
If you're a Moog fan, this is a must!
Download MinimogueVA here: https://www.kvraudio.com/product/minimogueva-by-voltkitchen
Synth 1
Continuing the unintentional theme of digital emulations of hardware; next up is Synth 1 by Ichiro Toda.
A free digital recreation of the Nord Lead 2, a staggering $15,000 machine, this synth delivers a comparable sound quality for absolutely no cost to the user. Realistically, you aren't going to be able to emulate a machine of that quality perfectly, but Synth 1 does a very good job!
It's a stable synth that allows users to experiment with sound design on a plug in that is pleasantly light on the CPU. There are 2 oscillators, each offering Sine, Triangle, Saw, and Square waves, with FM and ring modulation, sync and a modulation envelope. Synth 1 also boasts 4 types of filters, 2 LFO's and an arpeggiator. Featuring 16 note polyphony, and a roster of built in effects, this is a good synth to get your hands on!
You can do so here: 
https://www.kvraudio.com/product/synth1-by-daichi-laboratory-ichiro-toda
Komplete Start
Native Instruments' Komplete bundles are as renowned for their quality as they are controversial for their often hefty price tags. Komplete 12 features Massive X, Reaktor 6, FM8 and Monark, to name a few, but is lumped with a £500 price tag. Not as steep as some digital products, but not small change either.
If you're not able (or willing) to part with that amount of money for a synth bundle, you should definitely check out Komplete Start.
A bundle featuring over 2000 studio quality sounds, with 18 instruments and effects, this is the perfect taster to see if your workflow and production would benefit from the full Komplete bundle.
You can create virtually any sound you can imagine with a selection of Native Instruments best synths, with more than 500 professionally-designed presets for any genre. Komplete Start includes Blocks Base, MikroPrism, as well as four other Reaktor Player-based synths.
Also a special mention to the huge bass machine of TRK-01 which comes with the bundle!
There's enough to occupy your time for years in this bundle, plenty of synths, effects and loops to try out, and it's free! So why isn't it in your library already?
Grab Komplete Start from this link: 
https://www.native-instruments.com/en/products/komplete/bundles/komplete-start/


Tone Z
If you're an EDM producer looking for a new synth, look no further!
Tone Z is a polyphonic synth designed for EDM production, featuring 4 Oscillators (each with 12 waveforms, morphing, 1-8 voices, detune and stereo width control) The synth also includes 4 envelopes, a modulation matrix, as well as 2 filters, 2 LFOs, and 6 built in effects.
Like many on this list, you can't go wrong with this plug in considering it's costing you nothing. If you're an EDM producer, or are just looking to try out some new sounds in your tracks, check it out now! 

Get it here: 
https://t0nit0rmx.github.io/plugins/tonez



So that was our list of some of our favourite free plug ins of 2019 so far. While it's by no means a complete list, this should give you a flavour of what's out there. There are plenty more, and we only covered synths and instruments in this one, while there's a whole universe of free effects plug ins out there to consider as well. Keep an eye out for an article on those in the future.
Articles promoting or highlighting the best new free plug ins are always cropping up, so make sure you scour the web for the best new additions to your instrument or effects library!
We hope you found some cool new toys to play with that you perhaps were previously unaware of. There's lots to take in from this list and plenty to try out, so get your DAW open and get downloading whichever of these free plug ins tickle your fancy!
As always, thanks for checking in with us here at Top Music Arts, make sure to keep checking back regularly to keep up to date with our latest articles, tutorials and Ableton Templates.
---
Share this post
---
---
---
5 comments