MIDI Keyboards for Beginners in 2022
Posted by James Cullen on
There's something amazing about being able to create music entirely within the physical confines of a laptop or computer, with no external gear whatsoever. 
The amount of virtual synths and plugins, and the vast array of Digital Audio Workstations in which you can play with these sonic tools, gives endless possibilities to making music.
But there comes a time in pretty much every producer's music journey where they want to upgrade their set up and invest in a MIDI keyboard.
It's one of the most basic additions to your set up you can make; no more will you have to draw in notes, or play them in on a QWERTY keyboard. Adding a MIDI Keyboard to your set up makes making music easier, and your creative process becomes more intuitive and flows in a simpler way. 
Not only can you now play musical notes into your DAW, but many keyboards have additional controls which allow you to edit other parameters on the fly as you're recording. 
But for something so basic, there's a surprising amount of options out there.
In this guide then, we will focus on MIDI keyboards for beginners. We'll discuss the best options out there which sit on either side of the $/£100 mark. Go below this, and you can get something nice and basic which does the job, while going above it will bring more features and complexity (which isn't necessarily always a good thing!)
So, let's jump in and discuss some of the best MIDI keyboards for beginners in 2022.
(Bear in mind, that all prices listed are averages at the time of writing, as they vary slightly from retailer to retailer.)
Beginner keyboards usually fall into one of two categories.
The first of these is smaller, budget friendly and portable. They have 25 keys, so aren't going to be great if you're wanting to play in complex two handed piano arrangements, but are spot on if you're looking for something to just play in your synth parts one at a time, rather than drawing the MIDI in. Sometimes you can't emulate the human touch! 
The second category is one aimed at desk-based producers, who won't be travelling too much so can afford more keyboard real estate. These keyboards will have 49 or more keys, and often more features like sliders, knobs, sample pads and transport control buttons, though these are often not limited to bigger keyboards, as we'll see.
So it's worth thinking about which option is more suited to your needs before you begin your search for a MIDI keyboard. Are you doing most of your production in one place, or do you travel and take your gear with you? These are considerations to make which could determine what size of keyboard is best for your needs.
So, without further ado, let's have a look at the options.
AKAI LPK25 - THE budget MIDI keyboard.
£40 /  $46 / €46
When it comes to basics, the AKAI LPK25 has held the top spot for a while. 
It's small, portable and does exactly what you need it to. 
It works with both PC & Mac, just simply plug it in and play, with no driver installation.
This is a great option for the budget-conscious music producer. If you're not looking for any bundled softwares, which we will move onto shortly, then this is a great option.
It has 25 mini keys, each of which are velocity sensitive. It also contains four programmable memory banks and also an on board arpeggiator which steps through chords automatically. This is a nice tool if you're wanting a bit of inspiration on the go.
The LPK25 is an essential if you're just after a more efficient way to play music into your DAW, and it's lack of more complex features is offset by the super reasonable pricepoint.
Nektar SE25 - An exemplary portable keyboard.
£43 / $49 / €49
The Nektar SE25 is a clear contender for the most budget friendly and portable keyboard on the market right now. 
It has compatibility with both PC & Mac, as well as 25 velocity sensitive mini keys. 
There are also assignable buttons to help you pitch bend, adjust transposition and other controls.
This keyboard is an essential for a producer on the go. If you're travelling between your home and your work, or going from studio to studio to collaborate, this is a great tool to take with you. It also shows how creating a budget friendly keyboard of this small size doesn't mean you have to sacrifice on features. 
Its only competitor for price is the LPK25 mentioned above, but with the SE25 you're getting more features, and also comes with Nektar DAW integration for Bitwig, Cubase, Garageband, Logic, Nuendo, Digital Performer, Mixcraft, Reason, Reaper, Sonar and Studio One for such a competitive price. 
You also get a cool free edition of Bitwig, which for those unfamiliiar is a DAW made by ex-Ableton developers.
If you're on a budget but want a bit more features than offered by AKAI, this is a great option for only a slightly higher price.
KORG microKEY2 Air-25 - A wireless MIDI keyboard.
£82 / €95 / $94

KORG's microKEY range is now in its second generation with the microKEY Air-25 being its smallest iteration. It also comes in 37-, 49- and 61- key models, all of which work over Bluetooth. 
This one is a cool one, and will be a favourite of partner's of music producers everywhere who can't stand all the wires! 
Compatible with PC, Mac and iOS, this is a great option for someone producing across different devices. The joystick is also a nice little feature.
As you've probably gathered at this point; you're getting 25 mini keys which are velocity sensitive, and it's powered by either USB or batteries, depending on what mode you have it in.
It's quite a price jump from the previous two in the list, and doesn't have a super range of features, but the fact it works with Bluetooth and is compatible across iOS devices as well means this is a good option if you use a wide range of devices to make music.
It also comes bundled with special editions of Korg Gadget and Modules softwares, plus the Collection M1 Le, which includes a version of Korg's classic M1.
Arturia MiniLab MkII - A beautiful and feature packed device.
£79 / €89 / $90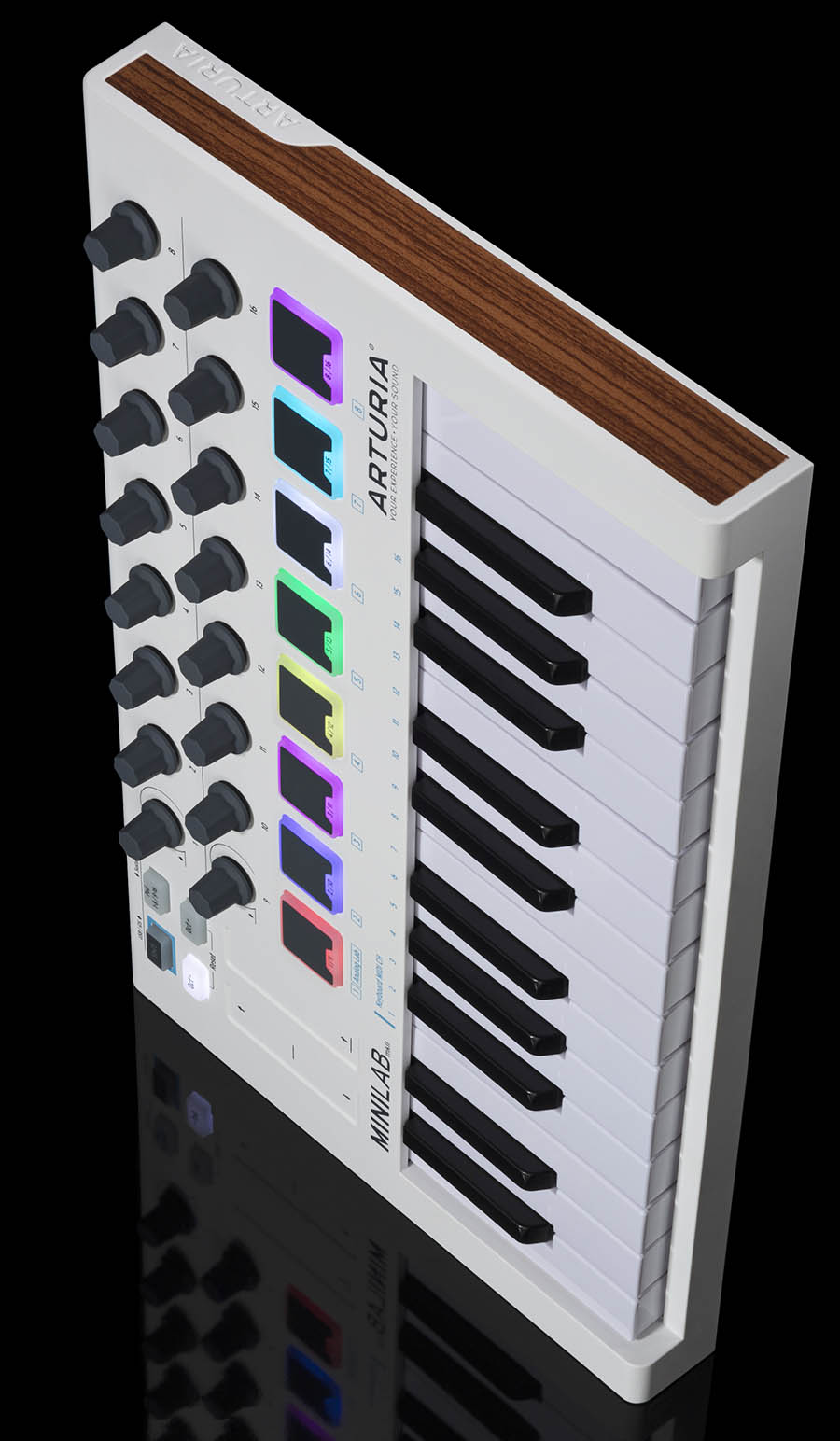 This is one of my favourites on the list, purely for the aesthetics. It's a lovely piece of gear to look at, and that can make a big difference in your studio!
But that's just a standard when it comes to Arturia; all of their gear looks good. But more importantly, it's also well built and functional.
This is the first example of a 25 key device with much more functions available to you.
As you can see, there are 16 encoders (knobs), 2 of which are clickable, and there are also 2 banks of 8 backlit velocity sensitive pads. 
There are also 2 touchstrips which work on pitch bend and modulation.
The 16 encoders is a great edition, giving you lots of options for tweaking things on the go, and if you're working within Ableton Live in particular, I'm sure you can imagine the automation possibilities with the MIDI assignments for these encoders.
The MiniLab MkII sits somewhere between a portable and a studio based device; its solidly built, weighing about 1.5kg, compared to the other ones in this selection, that's heavy. It's perfectly at home as a desk based studio device, but can stand being taken around in a laptop bag too.
It also comes bundled with some cool software; Analog Lab intro is a collection of different vintage keyboards from Arturia's catalogue. It features 17 instruments from V Collection, including analogy synths, digital workstations, organs, string machines and painos. All of these are beautifully recreated using Arturia's True Analog Emulation technology.
You also get a copy of Ableton Live Lite and _Uvi Model D, a beautifully sampled instrument using the sound of the Steinway Model D grand piano.
 If size and portability are your main concerns, then this one may not be your best option, but in terms of features, you're not going to find better at this price. Plus, did I mention how nice it looks?
AKAI MPKmini Mk3 - A classic, updated. 
£75 / €87 / $87 
One of the funny things about getting older as a music producer, is I'm seeing versions of controllers and pieces of software I had many years ago get new editions. The MPKmini is an example of this.
I used to have one of these way back when I was younger, and to see it now in the third generation of this controller is making me feel old! 
One of the defining things about thids keyboard is the 8 mappable encoder knobs, and 8 full size MPC style drum pads. The encoders can be mapped to virtually any parameter within your DAW, and the drum pads are great for if you're triggering drum samples. Sometimes playing drum samples from a keyboard can feel a bit off.
There's also a 4 way joystick for pitch and modulation control, which is a nice feature, as well as a built in arpeggiator and an OLED screen for parameter display.
You're also getting a neat software bundle: 
MPC Beats, 6 virtual instruments (Bassline, Tubesynth, Electric, Hybrid 3, Mini Grand, Velvet) and 2 GB of sound content.
Like the previous ones we've mentioned, this MIDI keyboard is a perfect balance between portability and features.
Alesis V49 MKII - 
More keys means more playability
£99 / €114 / $114
This is the first in the list featuring 49 full size keys, and as such, is a great option if being able to comfortably take your MIDI keyboard around with you isn't a big consideration.
Perfect for a home studio, the keys on the V49 are springy and responsive, which is a nice change from small mini sized keys. The entire unit has had a considerable redesign for this second generation, placing the extra controls along the top of the keyboard, rather than all bundled to the left as in the previous iteration.
Speaking of the controls, this is where some users may find the V49 lacking; there are 8 pads but only 4 assignable encoder knobs. And while the price of this keyboard is definitely competitive for the amount of keys, you may find you want more controls as well.
But if this isn't an issue, the Alesis V49 MKII is a solid contender for a budget friendly 49 key MIDI keyboard.
You also get some cool software included; such as MPC Beats, V Editor, Ableton Live Lite (which is good if you're not already an Ableton user) and xpand!2. 
Native Instruments Komplete Kontrol M32 - A solid all rounder.
£88 / € 100 / $ 100
Native Instruments makes great software synths, and their hardware is equally solid. The Komplete Kontrol M32 packs a great software bundle with a compact MIDI keyboard, giving 32 micro keys and a full bunch of controls onto the small frame.
You have pitch and mod touch strips, 8 knobs, a four directional push encoder and a small screen, all allowing you to change and adjust parameters within your plugins and DAW with ease. There are also transport and mixer controls available for your DAW.
What's cool is that this mini keyboard borrows a lot of features from NI's A-Series of keyboards, such as the Smart Play feature, which can snap notes to a scale, trigger chords and arpeggiation. There's a ton of Native Instruments dedicated functionality too; it works great with Maschine. It also works as a standard MIDI controller for other, non-NI softwares, which makes it a good all rounder.
The drawback though is the size of the keys; this is a really compact unit, which is great for portability, but the keys can feel super tiny if you're not used to them.
Novation Launchkey Range - the Ableton user's dream.
 The Launchkey range from Novation is worth mentioning as a whole, rather than focusing on one particular model.
If you're an Ableton user in particular, the Novation Launchkey range is an intuitive and fully integrated MIDI keyboard and controller.
Coming in 25-, 37-, 49-, and 61-key models, there's a Launchkey for everyone. If you want a fully playable two handed piano range, or just a smaller and more portable option.
What undoubtedly sets the Launchkey range apart though, is how it's built with Ableton Live in mind. It has full integration with Ableton Live, meaning you can access a huge range of Ableton's controls and functions from the hardware. 
But it's not just that, because it also has full integration with Logic, Cubase and Reason.
There are a bunch of features included which you seem to see as standard on many of these MIDI keyboards in the list; Scale Mode, Chord Mode, a super powerful arpeggiator. There's also the fact that it works in standalone mode, with or without a computer, able to control hardware.
On top of all this, Launchkey keyboards come with a really good selection of bundled software, including Ableton Live Lite, Spitfire Audio LABS Expressive Strings, XLN Audio Addictive KEys Access, Klevgran R0Verb, Klevgran DAW CAssette A plugin, AAS SEssion Bundle Keys and Novation Sound Collective.
There's a Launchkey model for every budget and situation, so if you're an Ableton user, there really isn't a more integrated and intuitive option for a MIDI keyboard.
 M-Audio Oxygen 49 MKV - A brand new series to replace a classic.
£122 / €140 / $140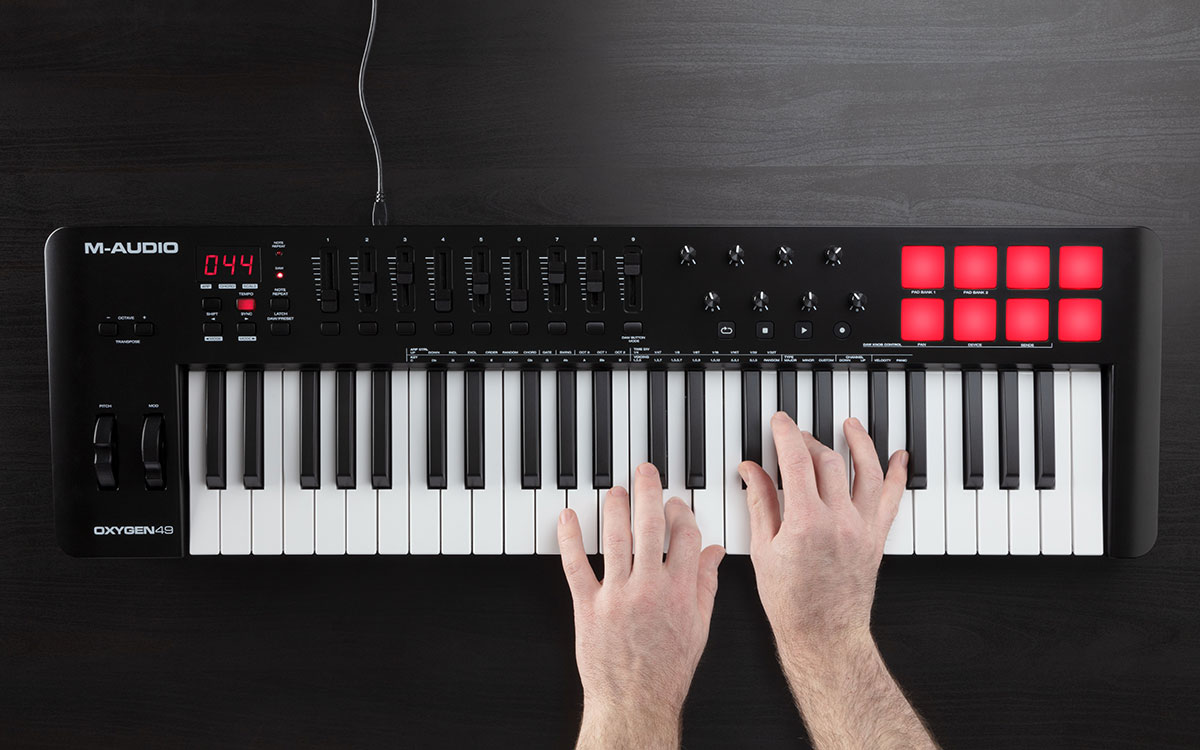 M-Audio make good MIDI keyboards. I remember when I was learning Music Tech in college the classroom was kitted out with M-Audio keyboards. They were super basic; I think they only had keys, the pitch and mod wheels and the digital screen.
Now, however, you can get a much more feature packed keyboard, and the new Oxygen series from M-Audio is a great addition to any studio.
The 49 is the cheaper version of the M-Audio Pro 49, and is therefore lacking a few features of the premium edition. However, you are getting 8 pads, split into two banks of 8, giving you access to a total of 16 sounds. You also have knobs and faders for more precise DAW control, and the Smart Chord and SMart Scale modes from the Pro series. 
This is a good keyboard for a good price, and considerable if you're not wanting to go for the more pricey Pro range.
Nektar Impact LX88+ - A well priced piano sized controller
£250 / €290 / $ 290

If you're in the market for a full piano sized MIDI keyboard with velocity sensitive, semi-weighted keys, you can't go wrong with the Nektar Impact LX88+. 
If you're a paino player, or want to use the full scale of keys available on a piano, then this is the one for you. The LX88+ has 88 semi-weighted keys, so these aren't going to be as responsive as fully weighted piano keys, but they're close, and they feel great.
You're also getting nine sliders, nine buttons, eight knobs and eight pads with which you can control parameters within your DAW, as well as transport controls you so you can control playback directly from the keyboard.
It's also surprisingly light and compact for its size, so it's fair to say it's a portable keyboard. It's definitely worth considering if you're in the market for a full scale range of piano keys. There are some great Piano VSTs out there, so having nice keys to play on them will make the difference!
Overview
So, as you can see, beginners in the world of music production and MIDI keyboards are a bit spoilt for choice. There are so many keyboards out there, far more than we've listed here, and there's one to suit everyone's needs.
We picked out a rundown of the best all rounders for this list, so hopefully there should be something in it for everyone's needs.
A MIDI keyboard can change the way you make music. There's nothing like being able to play in your notes and chords, rather than drawing in MIDI notes. 
So, hopefully this gave you an idea of some of the available options out there for MIDI keyboards. There's a lot more than contained in this list, but these are some of the best priced keyboards for beginners on a range of budgets.
Thanks for checking in with us here at Top Music Arts, and be sure to check out the rest of our site while you're here. We have so many more articles and guides relating to music production, and our Ableton Live Templates allow you to dive into a fully produced track and see all of the building blocks.
---
Share this post
---
---